Now generally available: Managed Service for Microsoft Active Directory (AD)
A few months ago, we
launched
Managed Service for Microsoft Active Directory (AD) in public beta. Since then, our customers have created more than a thousand domains to evaluate the service in their pre-production environments. We've used the feedback from these customers to further improve the service and are excited to announce that
Managed Service for Microsoft AD is now generally available
for everyone and ready for your production workloads.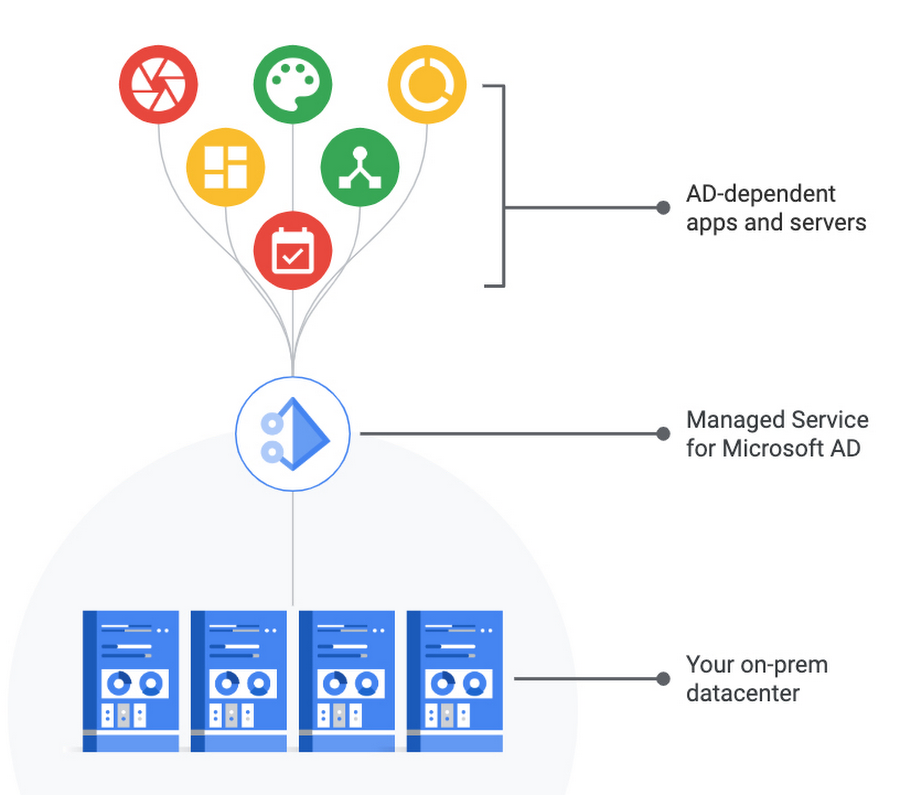 Simplifying Active Directory management
As more AD-dependent apps and servers move to the cloud, you might face heightened challenges to meet latency and security goals, on top of the typical maintenance challenges of configuring and securing AD Domain Controllers.
Managed Service for Microsoft AD
can help you manage authentication and authorization for your AD-dependent workloads, automate AD server maintenance and security configuration, and connect your on-premises AD domain to the cloud. The service delivers many benefits, including:
Compatibility with AD-dependent apps.

The service runs real Microsoft AD Domain Controllers, so you don't have to worry about application compatibility. You can use standard Active Directory features like Group Policy, and familiar administration tools such as Remote Server Administration Tools (RSAT), to manage the domain.

Virtually maintenance-free.

The service is highly available, automatically patched, configured with secure defaults, and protected by appropriate network firewall rules.

Seamless multi-region deployment.

You can deploy the service in a specific region to enable your apps and VMs in the same or other regions to access the domain over a low-latency

Virtual Private Cloud (VPC

)

. As your infrastructure needs grow, you can simply expand the service to additional regions while continuing to use the same managed AD domain.

Hybrid identity support

. You can

connect

your on-premises AD domain to Google Cloud or deploy a standalone domain for your cloud-based workloads.

You can use the service to simplify and automate familiar AD tasks like automatically "domain joining" new Windows VMs by integrating the service with
Cloud DNS
, hardening Windows VMs by applying Group Policy Objects (GPOs), controlling Remote Desktop Protocol (RDP) access through GPOs, and more. For example, one of our customers,
OpenX
, has been using the service to reduce their infrastructure management work:
"Google Cloud's Managed AD service is exactly what we were hoping it would be. It gives us the flexibility to manage our Active Directory without the burden of having to manage the infrastructure," said Aaron Finney, Infrastructure Architecture, OpenX. "By using the service, we are able to solve for efficiency, reduce costs, and enable our highly-skilled engineers to focus on strategic business objectives instead of tactical systems administration tasks."
And our partner,
itopia
, has been leveraging Managed AD to make the lives of their customers easier: "itopia makes it easy to migrate VDI workloads to Google Cloud and deliver multi-session Windows desktops and apps to users on any device. Until now, the customer was responsible for managing and patching AD. With Google Cloud's Managed AD service, itopia can deploy cloud environments more comprehensively and take away one more piece of the IT burden from enterprise IT staff," said Jonathan Lieberman, CEO, itopia. "Managed AD gives our customers even more incentive to move workloads to the cloud along with the peace of mind afforded by a Google Cloud managed service."
Getting started
To learn more about getting started with Managed Service for Microsoft AD now that it's generally available, check out the
quickstart
, read the
documentation
, review
pricing
, and watch the
webinar

.